Activity Tracker with Garmin Move IQ Automatic Activity Detection
It's time to switch up how you move with the vívofit 3, the Garmin activity tracker with Move IQ motion detector. Its 1-year battery life lets you track activity 24/7 so you never need to turn it off or charge it. The red move bar reminds you when to move and you can also view stats such as steps and calories on the devices easy-to-read high resolution display. With Garmin Move IQ, vívofit 3 automatically captures different activities such as walking, running, biking, swimming and elliptical training which can later be viewed on Garmin Connect. Access Garmin Connect via the mobile app or desktop to see your data in more detail, join challenges and compete against others.
Features 1-year battery life
Displays Steps, Calories, Distance, Intensity Minutes³ and time of day on backlit display (monitors sleep¹)
Auto activity detection classifies activity type on Garmin Connect
Reminds you to stay active with move bar and audible alert
Automatically syncs² to Garmin Connect to save, plan and share progress

Knows How You Move
Move IQ captures different activities, such as walking, running, biking, swimming and using an elliptical, to view on Garmin Connect. No need to switch out your watch or start a new activity, vívofit 3 recognises when your movement changes so you can go from a walk to a run in no time. Access Garmin Connect via the mobile app or desktop to see your data in more detail, join challenges and compete against others.
Tells Time and "Time to Move"
While it's ideal to be moving all throughout the day, we know that's not always the case. Luckily, vívofit 3 tracks any and all of your movement, including inactivity. So while you might lose track of time and forget to move, vívofit 3 won't. A red move bar appears on the display and a gentle alert sounds after 1 hour of inactivity. The move bar builds every 15 minutes until you reset it by walking for a couple of minutes.
24/7 Wearable
The vívofit 3 follows your progress 24/7 thanks to its 1-year battery life. It automatically monitors your rest when you go to sleep. It's water resistant so you can wear it in the pool or the shower. Optional accessory bands in various colour schemes let you coordinate your vívofit 3 to your wardrobe.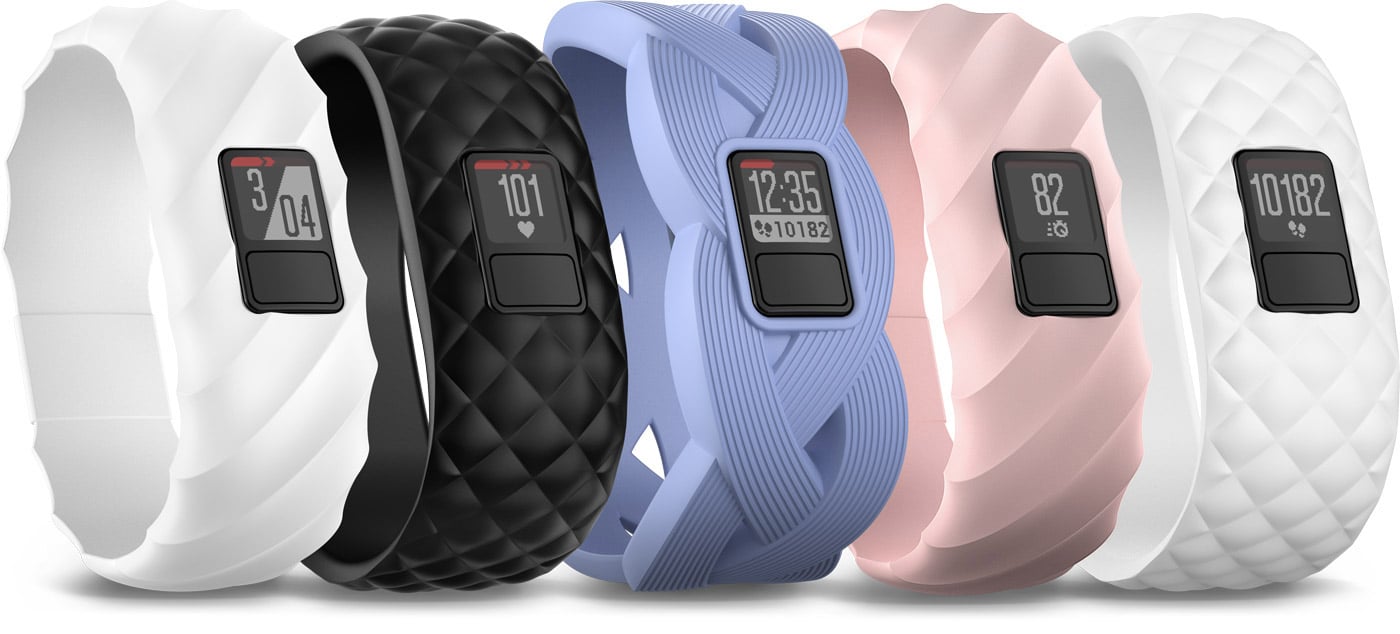 Style Collection
Having an activity tracker that functions doesn't mean sacrificing style. With the Gabrielle and Alexandra style collection of bands, your vívofit 3 will look feminine and fabulous no matter where your activities take you. These sculpted bands come in different colours, so you can pick the one that best suits your current outfit or mood and changing out the bands is as easy as changing your clothes. Simply pop out the vívofit 3 module and pop it into whichever band you choose. Now there's a band for every occasion, so you can look your best while continuing to beat yesterday.
Personalised Daily Goals
The vívofit 3 learns your current activity level, then assigns an attainable daily goal. As you meet your milestones, vívofit 3 will adjust your goal for the next day, gradually nudging you toward a healthier lifestyle.
Insights from Garmin Connect
Throughout your day, vívofit 3 automatically syncs to Garmin Connect². Garmin Connect is the only free app that gets to know you and then delivers meaningful insights based off your data to help you beat yesterday. These include cues to move if you're not on track to meet your step goal or shoutouts when you do hit those milestones. Plus, you'll get healthy tips from experts that become like virtual coaches. So download and lace up. Your daily tracking just got faster, easier and, well — better.
1Activity tracking accuracy
2When paired with a compatible smartphone
3Intensity minutes calculation assumes a moderate activity level