Description
Garmin vívofit jr. 2 isn't just a fitness tracker1 for kids, it's an interactive experience where activity unlocks adventure.  The swim-friendly band features a 1+ year battery life.  With it, kids can uncover Disney Princess adventures on the parent-controlled app by completing 60 minutes of daily activity.
Stylish and Strong
Tough and durable, vívofit jr. 2 features a customisable colour screen and comfortable band, available in two colours.  The purple band features princess character icons and the pink showcases Ariel, Belle, Jasmine, Mulan and Rapunzel, all on one band.  Your kid can show their Disney Princess style and rock it everywhere from playtime to football, during bath time and even to bed.  The user-replaceable battery will keep kicking for more than a year – no charging necessary.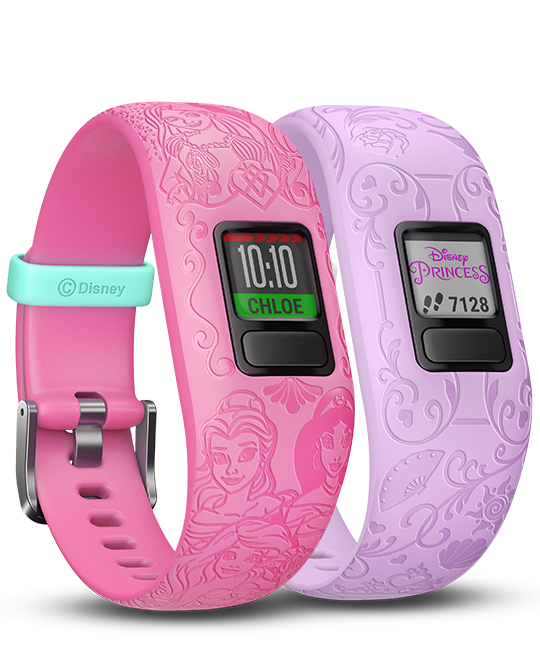 Magical Kingdoms: A Disney Princess Adventure
Every day, kids have more to explore when they reach their daily 60-minute activity goals, inspiring them to do their very best.  With you as their helper, your child will unfold new adventures and explore magical kingdoms alongside Ariel, Belle, Jasmine, Mulan and Rapunzel.  They'll help Rapunzel and Flynn Rider escape Mother Gothel, save the Emperor with Mulan and even explore the Cave of Wonders with Jasmine.  The more they meet – and exceed – their activity goals, the more of the story they'll get to see.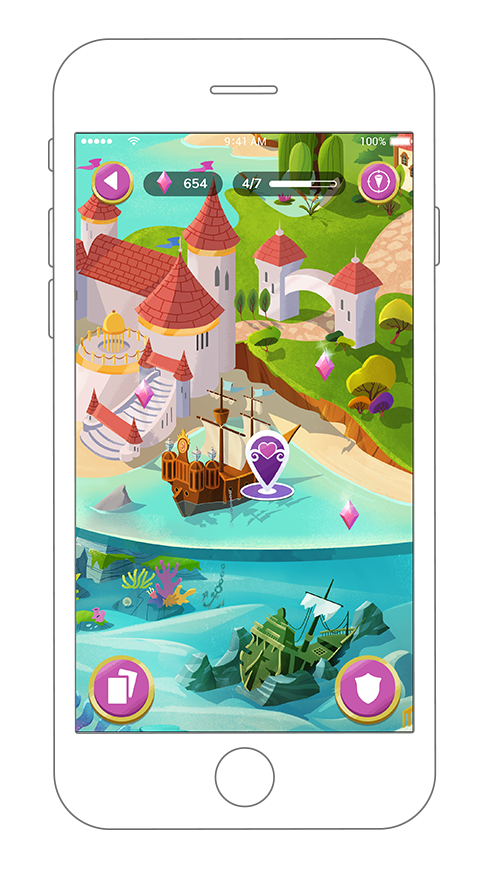 Interact with a Magical Kingdom
In addition to uncovering more adventures with the princesses, kids can gain access to fun games and more.  Meeting their daily activity goals gives kids more chances to play the tap challenge game.  Their fingers will be flying as they race against the clock to make as many matches and rack up as many points as they can before time runs out.  Meeting their daily activity goal gives kids more chances to play fun games and collect gems to reveal their very own kingdom on the adventure map.  To get more gems and more chances to play the tap challenge, kids will need to keep logging those active minutes!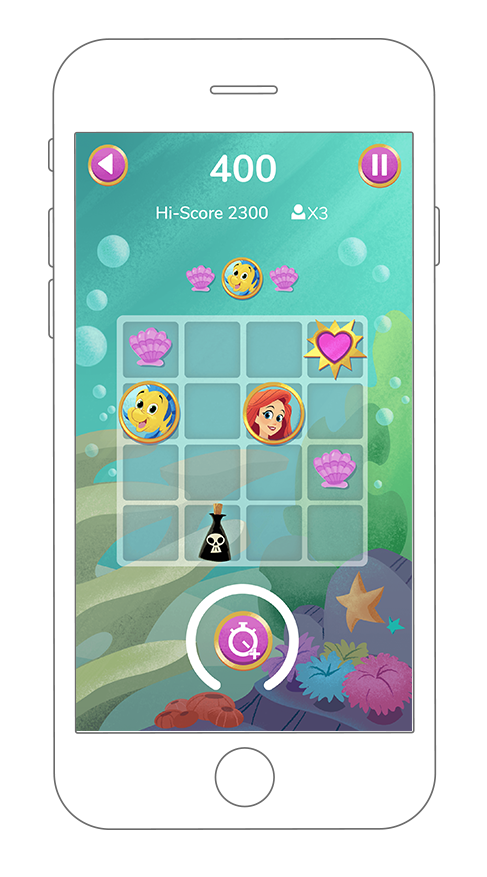 The Parental Personal Assistant
The mobile app isn't just for the kids to enjoy.  Parents can use it to manage the vívofit jr. 2 fitness tracker.  View activity, responsibilities, sleep, chore data and more after syncing with compatible Apple, Android and Amazon Fire Tablet devices.  Invite the whole family to compete in a daily step challenge, assign tasks and chores, designate a reward virtual coin value and find out how many coins each child has.  Those in-app coins can be redeemed by your kiddos for agreed-upon rewards.  It's all controlled right from your device.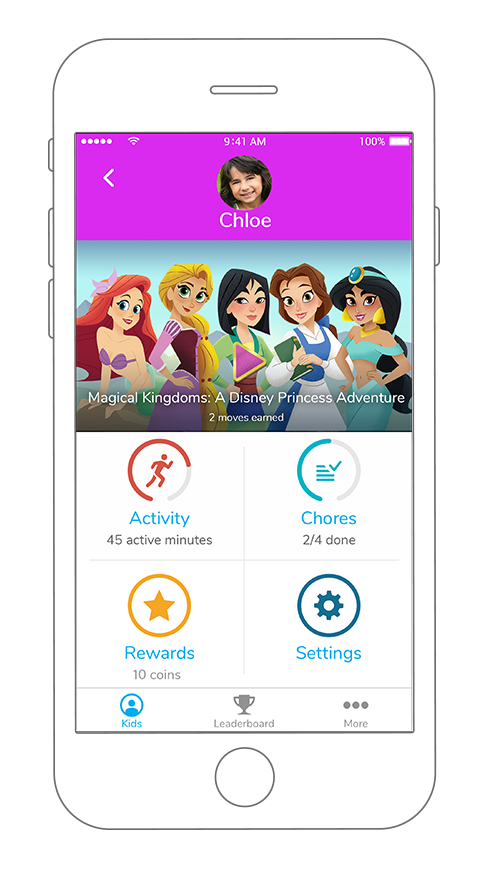 Rewards, Reminders and Responsibilities
Kids will see just how fun and rewarding household chores can be.  With vívofit jr. 2, parents assign chores and schedule alerts from the smartphone app, and kids' bands show them their new jobs to do.  These can be set up to recur weekly or even daily – perfect for children who need reminders.  For youngsters who procrastinate, schedule alerts in the parent app so vívofit jr. 2 reminds them to finish homework, brush their teeth and more.  The alert will remind them with an icon what they're supposed to be doing.  Then, the child can start the task timer on the device so they know how long they have left.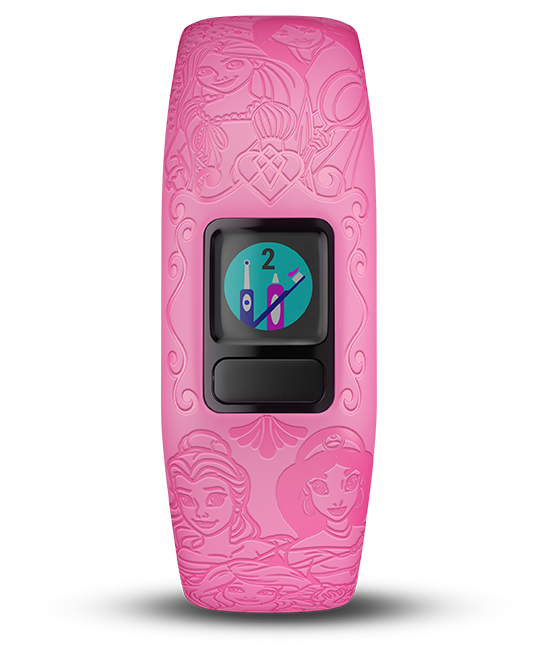 Friendly Step Challenges
Friendly competition comes to the playground and the garden. Toe-to-Toe step challenges let kids sync with nearby friends to challenge each other (one-on-one challenge) – or even themselves – to timed step competitions.  Once complete, they'll see their total number of steps during the challenge and find out if they triumphed over their friends or beat their own personal bests.  Your kids can access the app to view results from completed challenges and show off their latest victories.  Parents can get in on the fun too.  Download the Toe-to-Toe Connect IQ app to a compatible device to challenge your kids to a step competition.
Stay Active Together
Link up with your Garmin Connect friends and family – and even your kids' playground pals.  When you connect with other families in the vívofit jr. app, they can be part of your weekly step challenges.  Create custom step and active minute challenges, then invite participants from your list of connections.  You can even leave comments for each other in the app while the challenge is active.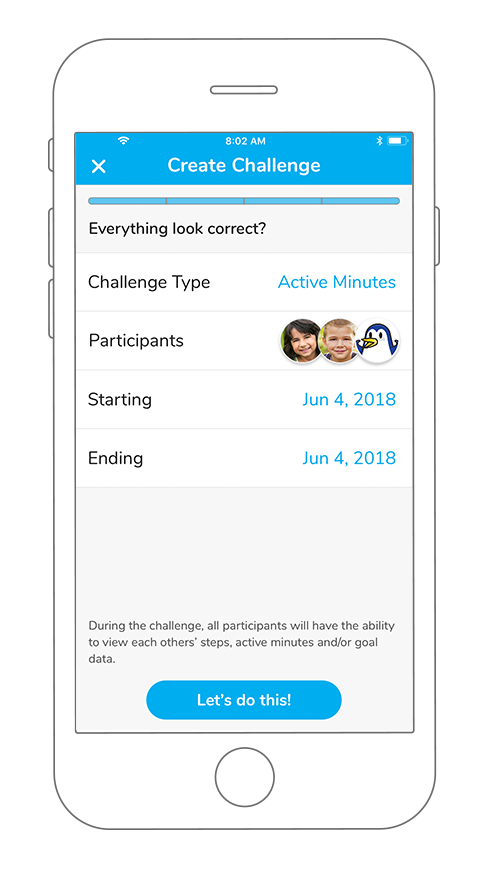 Access Even More Fun
Garmin vívofit jr. 2 lets your kids get their hands on more styles and adventures.  All they need is a new band to open up a new world of adventures.  What'll it be next?  Track activity and engage in galactic adventures with a Star Wars themed band?  Show creativity and style with a Minnie Mouse band?  Or will your kid show off their Marvel Avengers band and join in adventures that let them save the day like a true hero?  It's up to your kid.
© Disney, © & ™ LucasFilm Ltd.
iPad, iPhone and Apple are trademarks of Apple Inc., registered in the U.S. and other countries. Android is a trademark of Google Inc. Amazon and all related logos are trademarks of Amazon.com, Inc. or its affiliates.